Dry Eye Wellbeing Seminar For Patients
In Scope, we are passionate about improving people's quality of life and well-being. Throughout 2022, we hope to support you in minding and managing your eye health.
With July being Dry Eye Awareness month we will be hosting a virtual seminar that will provide free, practical support and advice for anyone that may be experiencing symptoms of dry eyes and or allergy.
At Scope our mission is to provide everyone with access to great resources and products that can help them understand what must be done to maintain healthy vision and establish good eye health habits.​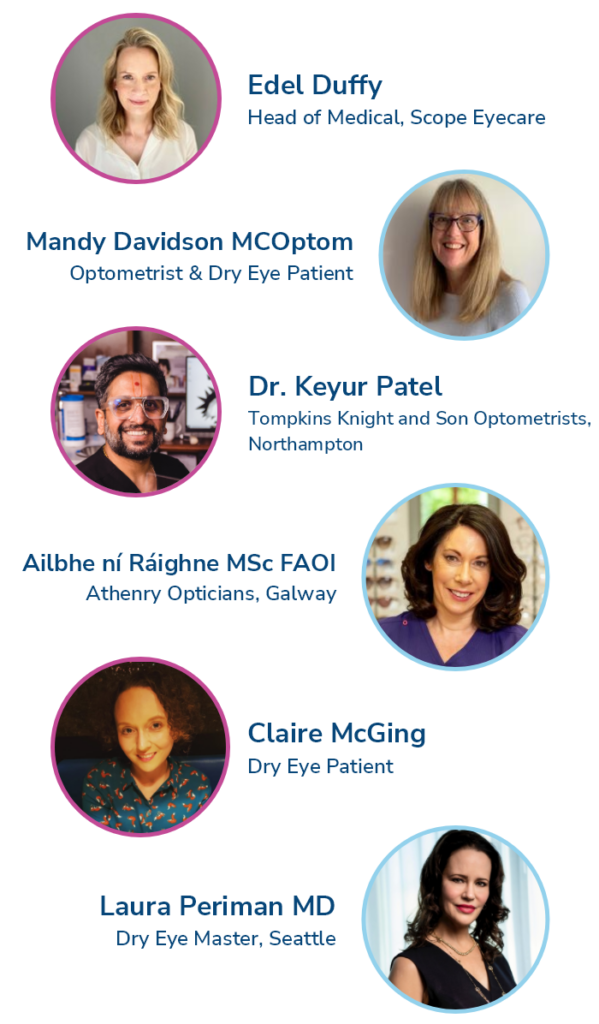 What To Expect From This Wellbeing Event
Hear from Doctors and leading medical experts in their field discuss the latest treatment and recommendations. 
These are professionals with decades of experience in managing ocular surface diseases, ready to share their knowledge and insights with you.
Sometimes a fresh perspective from another patient is all you need to change how you manage your symptoms.
At this event you will hear from a patient's perspective how Dry Eye disease impacted their life and the steps they took to regain control of their ocular health.
We know that everyone's Dry Eye can be different so if you have a question specific to your experience or symptoms please let us know.
We will have a Q&A session during the event and will do our best to answer as many questions as possible during the event.
Event 1 - Getting the most out of your Eyecare Appointment
During our first session Scope's Edel Duffy, Head of Medical, will be joined by Dr. Keyur Patel, award winning optometrist and Director at the multi-award winning, Tompkins Knight and Son Optometrists and Claire McGing a dry eye patient.

Together they will explore the appointment process from both the clinician and patient perspectives. Following this event, we hope that participants will be better equipped to get the most out of their appointments.
Event 2 - Understanding the treatment for Dry Eye Disease
After a short break to rest your eyes, Edel will be joined in studio by the wonderful Mandy Davidson and Ailbhe ni Raighne, with Laura Periman dialling in from her practice in Seattle in the United States.

This session aims to provide attendees with a greater understanding of how and why specific treatments are recommended, we hope to help people manage their dry eyes more easily and consistently.
A Scope patient non-promotional event to inform, educate and support patients. Brought to you by a passionate group of Healthcare Professionals and the Scope Medical and CSR Teams.
Reserve your seat for these free events?
Preregister and also receive access to webinar recording after the event
Click the button to join the webinar

Scope is a family run eyecare and healthcare company, operating in Ireland, the UK and the USA. This programme is part of our Corporate Social Responsibility and commitment to Goal 3 Good Health & Wellbeing under the Sustainable Development Goals.